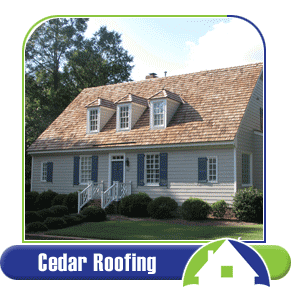 All work is guaranteed and includes a written warranty.
Cedar has been used for hundreds of years throughout North America with great success. Style preferences change over the course of many decades, and cedar product lines continue to evolve and offer diverse solutions.
People are coming back to a product that has withstood the test of time. When you consider cedar roofing, you will see that cedar is a value added product that is aesthetically pleasing, durable and environmentally responsible. It's a winning combination.
Cedar roofing is a natural and attractive option for re-roofing your home. It is the only roofing product that is manufactured from a renewable source; it is non-toxic, energy-efficient, recyclable and biodegradable. We offer options that are treated to resist bacteria and fungus. All of our cedar products are certi-labeled and bureau certified. Cedar roofing can add more value to your home than traditional roof shingle options, and typically carries a minimum of a 40-year warranty.
A little-known fact about cedar shakes and shingles is that many are actually made from salvaged wood fiber - that is, wood left over from past logging work or windblown material left on the forest floor. CSSB members use helicopter and manual methods to remove it from the forests in a habitat-sensitive way, thus ensuring the best use of a valuable resource. Wood is nontoxic, energy efficient to produce, and eminently recyclable and biodegradable. Wood is also the most energy-efficient building material available today. When you compare the total energy costs of different kinds of building materials - including the cost to acquire the raw material, transport it, process it into a useful product and then actually use it - wood far outshines its competitors.
Cedar has a strong foothold in many niche markets across the United States and Canada. Prized for adding a welcoming, warm look to any home, cedar offers many benefits, including:
High insulation value
Wind, impact and fire resistance
Meets national and international building code standards
Highly resilient in earthquakes
Lightweight - no re-decking required
Natural beauty - increases home value
Long-term warranties available
Natural decay resistance
Renewable resource - biodegradable
No worries about matching factory color lots
Call Olde Raleigh Roofing Company today to get a free evaluation and quote to see how you can benefit from our product lines and increase the value of your home.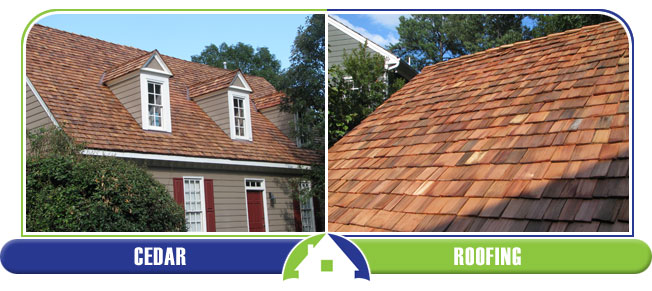 "One of your roofing crews just completed our new roof. We couldn't be more pleased. The crew was professional in every way, hard working and neat. Not only did they do a great job on the replacing of the shingles, but their clean-up was very thorough.
We had several people on our street comment on how nice the new roof looks…the architectural shingles and the ridge vents are a great look. We will recommend Olde Raleigh Roofing to all that ask."
Steve Stoughton
Cary, NC